What is IDEAL?
The Indiana Construction Roundtable (ICR) recognizes the opportunity to improve the Indiana construction industry through the development of the I.D.E.A.L. Value System. IDEAL is an acronym for Inclusion, Diversity, Equity, and Advocacy and Leadership. Ideal is both an acronym, a call to action, and a goal. The effort is designed to empower owners, general contractors, construction managers and XBEs contractors in achieving a new level of engagement resulting in improved business relationships, greater diversity and inclusion and education on challenges face by business owners representing diverse communities. This Master Plan is the first step in our journey. The program is intended to be a multi-year (7-10 year) effort which will continue to expand and improve on the concepts outlined herein. This document provides a framework for the plan but is expected to be developed by the continued involvement of our membership. We expect our members to take this initiative and make it their own. The recommendations contained herein are not all-inclusive, and we hope that our members will nurture the program into a mature, well-rounded, and successful initiative that could become a model of imitation for other communities (and other non-member companies in our region).
Why IDEAL?
ICR has always valued diversity within the industry. As part of our strategic plan this is the next step in moving the Indiana construction industry forward. ICR is challenging our membership to be intentional, to think beyond the status quo, and to become part of a grassroots effort to change the demographic of the Indiana construction industry. "It takes more than goodwill to really make progress on diversity, inclusion, and equity. There can be a lot of good intentions but not a lot of progress until you start producing systematic and regularly assessed processes to turn those intentions into actions." (Quote from Kirsten Wood, associate professor at FIU). Our goal is to provide a model for imitation for others in our industry to follow. This program is built to be a mechanism for our members to think differently about their DEI (Diversity, Equity, and Inclusion) efforts and to be intentional rather than reactionary and shed the old vestiges about "diversity compliance".
COMPANIES THAT HAVE SIGNED THE IDEAL PLEDGE
ATEC, Inc.
BMWC Constructors
CMS
Engineered Facades
F.A. Wilhelm Construction
GroundBreakers Hydrovac Excavation
The Hagerman Group
Messer Construction Co.
Meyer Najem Construction, LLC
Midwest Associates
OfficeWorks dba BOLTT Construction
Pepper Construction Co. of Indiana
Poynter Sheet Metal
Shambaugh & Son, L.P.
Shiel Sexton
Spohn Associates, Inc.
The Skillman Corporation
Turner Construction
MZ Corp dba Zurbuch Development | Construction Consulting
Weddle Bros. Construction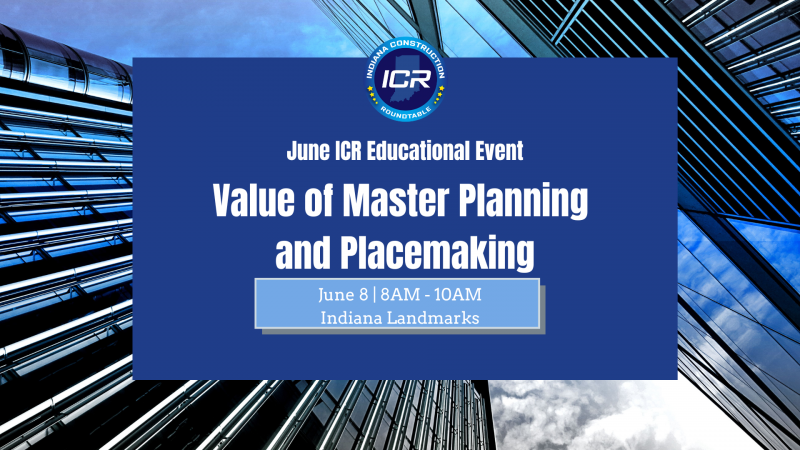 Upcoming Event
---
Value of Master Planning and Placemaking
June 8, 2023
Indiana Landmarks
Register Today!